Ford Blue Advantage: Confidence at Every Turn
Experience the benefits of Ford Blue Advantage! Each Ford Blue Advantage vehicle features a limited warranty, multi-point inspection, 24/7 roadside assistance, and FordPass™ Rewards Points.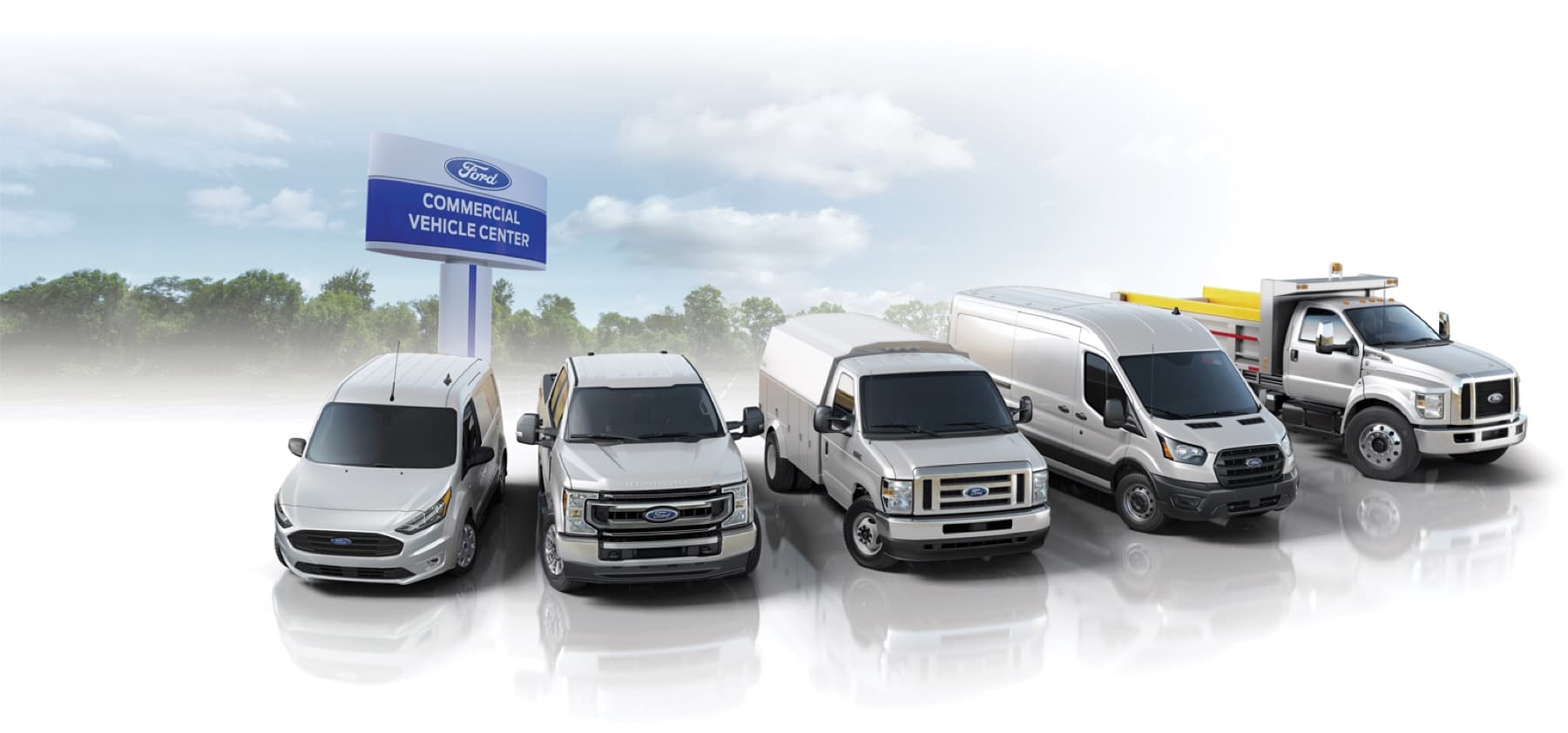 Built for the Road Forward
Your job has never been tougher. And we'll be here to help you keep working. Ford Commercial Vehicles are engineered to withstand the severity of everyday on-the-job duty.
We're Here For You
Santa Margarita Ford always puts customers first!
Don't take our word for it: Read our reviews and see what everyone is saying.
great service and friendly staff
Service writers were nice and friendly, corrected warranty issues with no charge to me, provided transportation back home.
Clare was very helpful. She kept me informed & listen to me. She also arranged for me to get home & back.
Easy deal and fantastic car. Glad to have a Ford dealer in the neighborhood.
The sales person, I didn't get his name, was courteous, kind, professional and went way beyond servicing my car. I even received a free car wash, which I was not expecting. I will definitely be back for any car service needs.
Great customer service and all very professional. My number one choice for having any work done
Salvador Preciado did a great job and made it super easy for me to understand the car issues!!
SM Ford's staff are very friendly and were able to provide me with a competitive price on my new vehicle. I would definitely consider them for future purchases.
Clare and the whole Team at Santa Margarita Ford is great!! Always respectful, helpful, and fast. We use to take our vehicles to a dealership that was closer but when we had a minor issue about a repair and needed them to recheck something they completely ignored me. That's why I will drive a little longer to get this kind of service!!! It's worth it!!!
I was searching around for some information about a recall on my vehicle and I got a hold of Amy in the service department. She answered all my questions with the utmost professionalism and informed me of information I didn't know to ask that was important to the recall as well! She went above and beyond and was great, definitely the go to person for all your service related needs!
Great dealership. Clean facility, knowledgeable sales staff and fair prices.
Santa Margarita Ford did an outstanding job on a major (150K mile) service on my F150. I had initially taken it to Tuttle-Click because RSM Ford was booked the day I wanted service and had a very disappointing and inadequate service experience. I ended up going back to RSM Ford for the correct service and they did an outstanding job, finding and fixing the right things and even proving some of Tuttle Click's recommendations were BS. My service manager Miguel was a champion, and I can't say enough how how he made me feel like he was advocating for me to get the service I needed for the right price. I wanted to get another year or two of life from my truck and they met the challenge. My belief that Santa Margarita Ford was the best locally available service was reaffirmed, I won't be going anywhere else!
Really caring people. They took care of my car and gives good support.
Friendly team, excellent service, and I got my car back an hour early. I have a Honda pilot and prefer Santa Margarita Ford over Honda hands down.
Got my f150L from Joseph and the Santa Margarita Ford family, well, exceptional service and spectacular communication would be an understatement for them. No ADM on any ordered vehicle (including the F150 Lightning), no bs accessories charges like many other dealers in the area, free coating (yes free coating with absolutely $0 out of pocket ). Top notch and highly recommended 👍
Very attentive and friendly staff. They make it quick and painless. Would definitely recommend the dealership.
Had to have a part replaced because of a recall. Great service from John!
Always receive excellent service
Nick Troy helped get me out of my old edge and into a new one. Everything went great and simple! Highly recommend you see him on your next car buying experience!
I'm from out of town, but found a great deal on Bronco Sport so I inquired about coming to see it. Response from the sales rep (Christian) was fantastic and overall the experience was great. Would definitely get another car from them!
I want to say I appreciate Freddy for his empathy, initiative, and amazing service. I would recommend this dealer based on the fact of Freddy's level of customer service.
Professional, accommodating, and expeditious - each member of their staff went out of their way above and beyond to make sure the needs of my vehicle and my personal needs were me - EXCELLENT TEAM!
The team there was super responsive and easy to work with. Arvin and Robbie worked with me to meet my needs given my super busy schedule. I'm super excited that we were able to get the deal done so quickly and easily. Highly recommend these guys.
I've been bringing my car in to the RSM Ford dealership for a few years now and can honestly say the service is consistently great! From the employees; in particular Miguel has been so courteous, helpful and patient. To the work being done on my car to the customer service. I'm always pleased and have no complaints.

Welcome to Santa Margarita Ford
New and Used Ford Dealership
Since opening, our strategy has always been to take care of our customers, employees, and community. We understand people don't like the car buying process. It can be too long and uncomfortable. It lacks transparency. We get it! This is why we work hard every day to be different. Our new & used Ford Dealership proudly serves residents in Rancho Santa Margarita, Mission Viejo, Ladera Ranch, Lake Forest, Cota De Caza, and Trabuco Canyon since 1997. We're convenient, competitive, and right here in your backyard.
New Ford Vehicles For Sale
Santa Margarita Ford offers a great selection of new and used Ford Trucks and SUVs. Shop our extensive selection of Ford Ecosport, Ford Escape, Ford Explorer, Ford Edge, Ford Bronco, Ford Mustang Mach-E, Ford Mustang, Ford Expedition, F150, and F250 models to all of Mission Viejo, Anaheim, Ladera Ranch, Lake Forest, Cota De Caza, and Trabuco Canyon. Browse our inventory to find your next vehicle today.
Pre-Owned Vehicles For Sale
Santa Margarita Ford also offers a great selection of Used and Certified pre-owned Ford Trucks and SUVs, including other well-known used brands. We are competitively priced, take a look at our used vehicle specials, and find the used car or truck to fit your needs.
Ford Specials
Santa Margarita Ford, we strive to get you the best deal. Whether you are buying or leasing a Ford, we are here to help make your car buying experience simple and fun! We'll help find you the deal that fits your budget!
Ford Parts and Service
At Santa Margarita Ford, we are always proud to serve our customers. We offer a full-scale Service Center and OEM parts department near Rancho Santa Margarita, Mission Viejo, Ladera Ranch, Lake Forest, Cota De Caza, and Trabuco Canyon. We provide same-day service on Oil change, brake service, fluid service, and much more for your Ford vehicle. Schedule your appointment today!
Contact Us