Ford Blue Advantage: Confidence at Every Turn
Experience the benefits of Ford Blue Advantage! Each Ford Blue Advantage vehicle features a limited warranty, multi-point inspection, 24/7 roadside assistance, and FordPass™ Rewards Points.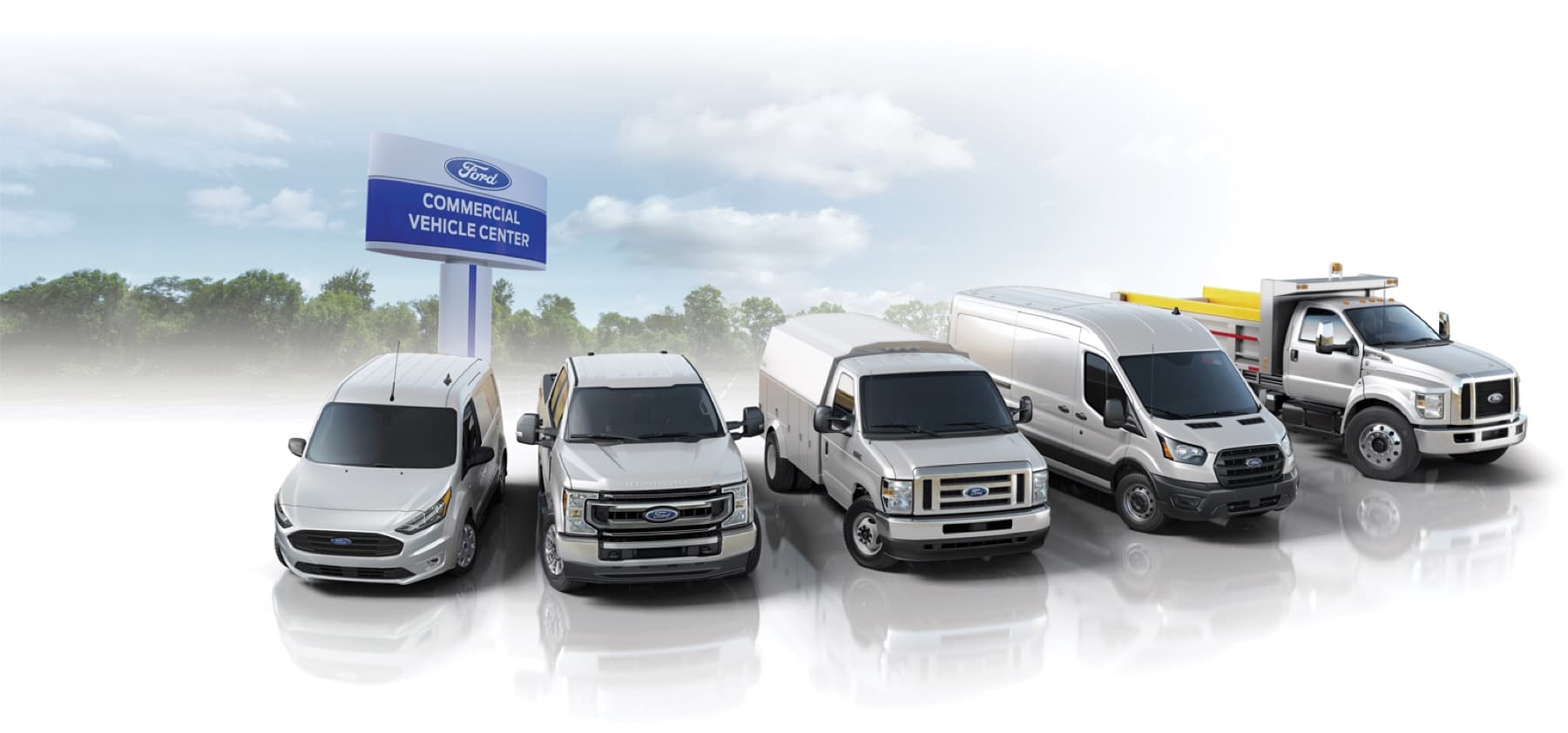 Built for the Road Forward
Your job has never been tougher. And we'll be here to help you keep working. Ford Commercial Vehicles are engineered to withstand the severity of everyday on-the-job duty.
We're Here For You
Santa Margarita Ford always puts customers first!
Don't take our word for it: Read our reviews and see what everyone is saying.
Miguel and the entire Santa Margarita Ford team is very professional and has taken great care of our cars over the years. Great team, highly recommend for service.
Great customer service as always !
I love this dealership. Fixed the problem in a timely manner and fair price. Miguel was amazing to work with.
I brought my car in for brakes, a clicking sound and a burnt out tail light. On my way home, I noticed my tail light was still out but I was a block from my house. I called them about it and they sent someone out to pick up my car, drive it back to the dealership and fix the light and bring my car back. Now that is service! You've just made a lifelong customer.
BEST EXPERIENCE EVER!! Sal in the Service Dept provided over & beyond expected service. Friendly, positive, professional service with a smile. Clean atmosphere. Great energy & vibes. Thank you Sal & Team for getting the vehicle data computer updated and smogged. I appreciate ALL your help & time.
Great service and Jacob Wu was very helpful as the service agent.
Miguel and Sal are both amazing service advisors. I always feel like the Santa Margarita team do everything they can to solve problems and take ownership even if it's outside their scope of work. Amazing dealership to have your vehicle serviced!
Battery was dead in my 2015 fusion. Got jumped by AAA who did not have a battery for it. Drive it to dealership on Sunday and dropped it off in their after hours service. Service advisor called be by 7:30 Monday morning to tell me they would have it done by noon.
Excellent service and fast
I have been using this dealership for service for 10+ years. They are great to deal with. My account manager, Jonathon is awesome. He seems to always go over and above to be sure my visits go smoothly and that I know what needs to be done
Always a good experience with the Service team
Great service, very courteous staff. I stopped taking my truck to Capo Ford because their staff was rude and couldn't be bothered with my business. I brought my Fusion in a few months ago and they took care of me the same day with no appointment. This time, I was late getting my truck to them, but they still got it back to me by mid afternoon. I also asked for a price on some parts and they were cheaper than Capo Ford as well. I won't take my Fords anywhere else.
Helpful staff, no pressure tactics. Able to complete my transaction with minimal stress added. Would recommend trying this dealership to anyone searching for a Ford vehicle.
I've been going to this dealership for 20 plus years and have always received the absolute best care for my vehicles…sales and service. Always nice to be recognized and served with top notch service.
Excellent service! I was Ubered Home and back to pick up my car when it was finished! Always taken care of and given the best quality service.
It's strange times with supply chain issues for parts. SM Ford has done their best to keep me informed of what's been fixed, what's on back order and has provided a loaner car in the interim. Good people doing their best in uncertain times. I appreciate them.
Good communication, fast service, no hassle!
Got EXPRESS Service for my 2017 Mustang. Very FAST and efficient! 👍👍👍👍👍 Total PROFESSIONALISM from all RSM FORD employees.
Arvin and Shervin are awesome! They helped me get my new Ford Maverick. I couldn't be any happier.
great service and friendly staff
Service writers were nice and friendly, corrected warranty issues with no charge to me, provided transportation back home.
Clare was very helpful. She kept me informed & listen to me. She also arranged for me to get home & back.
Easy deal and fantastic car. Glad to have a Ford dealer in the neighborhood.
The sales person, I didn't get his name, was courteous, kind, professional and went way beyond servicing my car. I even received a free car wash, which I was not expecting. I will definitely be back for any car service needs.

Welcome to Santa Margarita Ford
New and Used Ford Dealership
Since opening, our strategy has always been to take care of our customers, employees, and community. We understand people don't like the car buying process. It can be too long and uncomfortable. It lacks transparency. We get it! This is why we work hard every day to be different. Our new & used Ford Dealership proudly serves residents in Rancho Santa Margarita, Mission Viejo, Ladera Ranch, Lake Forest, Cota De Caza, and Trabuco Canyon since 1997. We're convenient, competitive, and right here in your backyard.
New Ford Vehicles For Sale
Santa Margarita Ford offers a great selection of new and used Ford Trucks and SUVs. Shop our extensive selection of Ford Ecosport, Ford Escape, Ford Explorer, Ford Edge, Ford Bronco, Ford Mustang Mach-E, Ford Mustang, Ford Expedition, F150, and F250 models to all of Mission Viejo, Anaheim, Ladera Ranch, Lake Forest, Cota De Caza, and Trabuco Canyon. Browse our inventory to find your next vehicle today.
Pre-Owned Vehicles For Sale
Santa Margarita Ford also offers a great selection of Used and Certified pre-owned Ford Trucks and SUVs, including other well-known used brands. We are competitively priced, take a look at our used vehicle specials, and find the used car or truck to fit your needs.
Ford Specials
Santa Margarita Ford, we strive to get you the best deal. Whether you are buying or leasing a Ford, we are here to help make your car buying experience simple and fun! We'll help find you the deal that fits your budget!
Ford Parts and Service
At Santa Margarita Ford, we are always proud to serve our customers. We offer a full-scale Service Center and OEM parts department near Rancho Santa Margarita, Mission Viejo, Ladera Ranch, Lake Forest, Cota De Caza, and Trabuco Canyon. We provide same-day service on Oil change, brake service, fluid service, and much more for your Ford vehicle. Schedule your appointment today!
Contact Us