We're Here For You
Santa Margarita Ford always puts customers first!
Don't take our word for it: Read our reviews and see what everyone is saying.
Miguel is awesome. Great follow up, very honest and stays on top of things. I wouldn't get my car serviced anywhere else.
Claire is awesome in service. Makes servicing your car easy. Thank you for all your help
Sal from service dept is awesome he made the whole process that much smoother just by doing a little extra research on something before he made a decision.. thanks guys you're awesome
I recently needed service on my 2023 Ford Maverick Hybrid. The check engine light came on and persisted even after a couple of repair attempts. I was provided a loaner car until the problem was solved. It took Ford's direct involvement and much effort on the dealership's part including replacement of the primary computer. I was continuously informed of progress and treated as though my business was valued. The problem is solved and I am once again enjoying my Maverick. I highly recommend this dealership and their extraordinary customer service.
Robbie Moore got me in the truck I wanted and we completed the paperwork, without any hassle. I came back the next day to pick it up and Robbie spent time with me to go through all the features and I was on the road. Looking forward to working with Robbie on additional company trucks in the future at Santa Margarita Ford.
My first visit for my Escapes 1 year maintenance and check a noise from my brake pedal. All was done in a timely manner, and no problem with the pedals, was told the pedal sound is normal in cars today (don't remember the specific terms used). When I picked up my car, I learned how to connect my phone and the car (it's not intuitive to baby boomers), a great side benefit. I was happy with the service provided and the friendly staff.
Albeit a little pricey for the service, I felt well taken care of with the complimentary Uber service and car wash. The staff was great at this location and I am glad to have found this dealership and service.
Friendly and quick service.
Santa Margarita Ford was a great experience for us. Attentive and professional and made the process smooth. Blake in sales and Dave in finance made the process easy and got us a good deal on a great car
Went to multiple Ford stores in the area and bought a Mach-E from SM Ford. Great overall sales and finance experience.
Reliable place to shop. Eric white, the agent who helped me did his job in the best way and beyond. Thank you Eric, you are one of the bests.
Great place to get your ford serviced - very helpful and professional staff to assist you.
Clare is my service advisor and it's always a pleasure working with her as she is exceptional and is so helpful and sweet she is always on point and there for you. Also so far my car all these years always comes back great after my service they techs are great too!
This place is well run...from making Our Service Appt on phone with Brooke...to dropping off vehicle the very next morning with Jacob...All staff in Service department very friendly
Clare is a breath of fresh air! Her communication and follow up shows just how much she cares about the customer's experience. As a employer myself I would have to say that was a great hire on your part.
Clare was absolutely amazing they took care of my oil change and all the other minor issues I was having with such ease. From beginning to end the process was amazing and they communicated throughout the whole process! Would definitely recommend!!
Friendly, punctual and easy to deal with.
I had a great purchase experience from sales consultant Blake W. The whole process was smooth (used car purchase). He had the car prepared for my appointment. Waited patiently for me to go through my inspection checklist and test drive. The sales contracting and paperwork processes were efficient. Thanks Blake!
Rene was very nice, knowledgeable and helpful!
Easy purchase of a Bronco Sport. No hassle negotiation. I was happy with the price and process.
Max and Blake went above and beyond under unique circumstances, including driving me over to my insurance broker's office to complete a change, ensuring I could drive my new Bronco off the lot before closing. I've been a customer for many years and the service is always top of the line. Thank you Santa Margarita Ford!
Services were completed promptly, with good communication. Not sure if SMF has ceased to do car washes after services, but truck was not washed when picked up.
Robbie went above and beyond to take care of us. We walked out with a beautiful car. He is awesome. Thank you Robbie!
Very happy with my most recent experience. I live in south San Clemente but find it worth the drive to come to Santa Margarita Ford. Worked with Clare this time and she went above and beyond. There were a few times when I disagreed with what she was saying and instead of getting upset, she found other solutions. Cannot recommend SM Ford and Clare enough. Thanks for the great experience.
Ford Blue Advantage: Confidence at Every Turn
Experience the benefits of Ford Blue Advantage! Each Ford Blue Advantage vehicle features a limited warranty, multi-point inspection, 24/7 roadside assistance, and FordPass™ Rewards Points.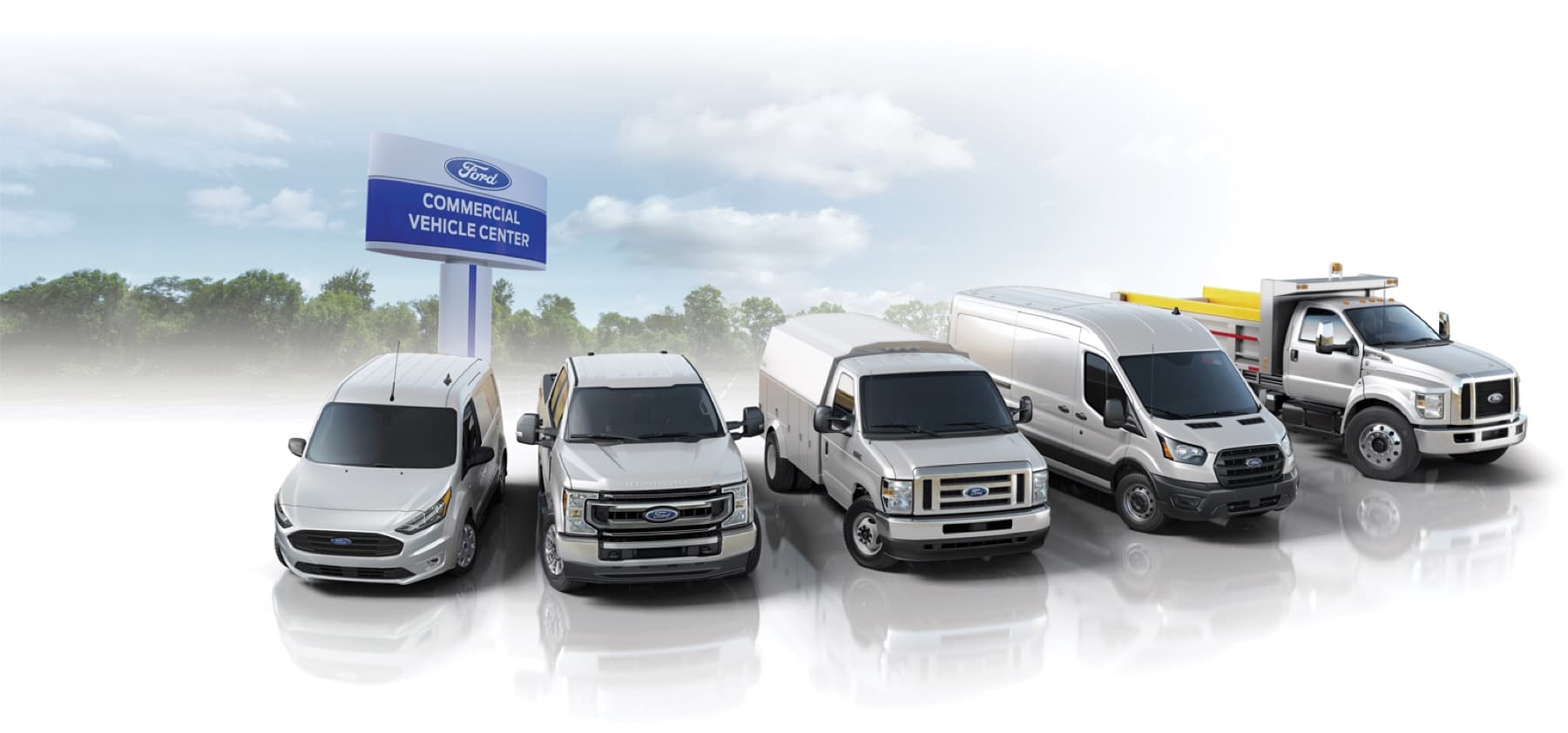 Built for the Road Forward
Your job has never been tougher. And we'll be here to help you keep working. Ford Commercial Vehicles are engineered to withstand the severity of everyday on-the-job duty.

Welcome to Santa Margarita Ford
New and Used Ford Dealership
Since opening, our strategy has always been to take care of our customers, employees, and community. We understand people don't like the car buying process. It can be too long and uncomfortable. It lacks transparency. We get it! This is why we work hard every day to be different. Our new & used Ford Dealership proudly serves residents in Rancho Santa Margarita, Mission Viejo, Ladera Ranch, Lake Forest, Cota De Caza, and Trabuco Canyon since 1997. We're convenient, competitive, and right here in your backyard.
New Ford Vehicles For Sale
Santa Margarita Ford offers a great selection of new and used Ford Trucks and SUVs. Shop our extensive selection of Ford Ecosport, Ford Escape, Ford Explorer, Ford Edge, Ford Bronco, Ford Mustang Mach-E, Ford Mustang, Ford Expedition, F150, and F250 models to all of Mission Viejo, Anaheim, Ladera Ranch, Lake Forest, Cota De Caza, and Trabuco Canyon. Browse our inventory to find your next vehicle today.
Pre-Owned Vehicles For Sale
Santa Margarita Ford also offers a great selection of Used and Certified pre-owned Ford Trucks and SUVs, including other well-known used brands. We are competitively priced, take a look at our used vehicle specials, and find the used car or truck to fit your needs.
Ford Specials
Santa Margarita Ford, we strive to get you the best deal. Whether you are buying or leasing a Ford, we are here to help make your car buying experience simple and fun! We'll help find you the deal that fits your budget!
Ford Parts and Service
At Santa Margarita Ford, we are always proud to serve our customers. We offer a full-scale Service Center and OEM parts department near Rancho Santa Margarita, Mission Viejo, Ladera Ranch, Lake Forest, Cota De Caza, and Trabuco Canyon. We provide same-day service on Oil change, brake service, fluid service, and much more for your Ford vehicle. Schedule your appointment today!
Contact Us
30031 Santa Margarita Pkwy, Rancho Santa Margarita, CA 92688.