Ford Blue Advantage: Confidence at Every Turn
Experience the benefits of Ford Blue Advantage! Each Ford Blue Advantage vehicle features a limited warranty, multi-point inspection, 24/7 roadside assistance, and FordPass™ Rewards Points.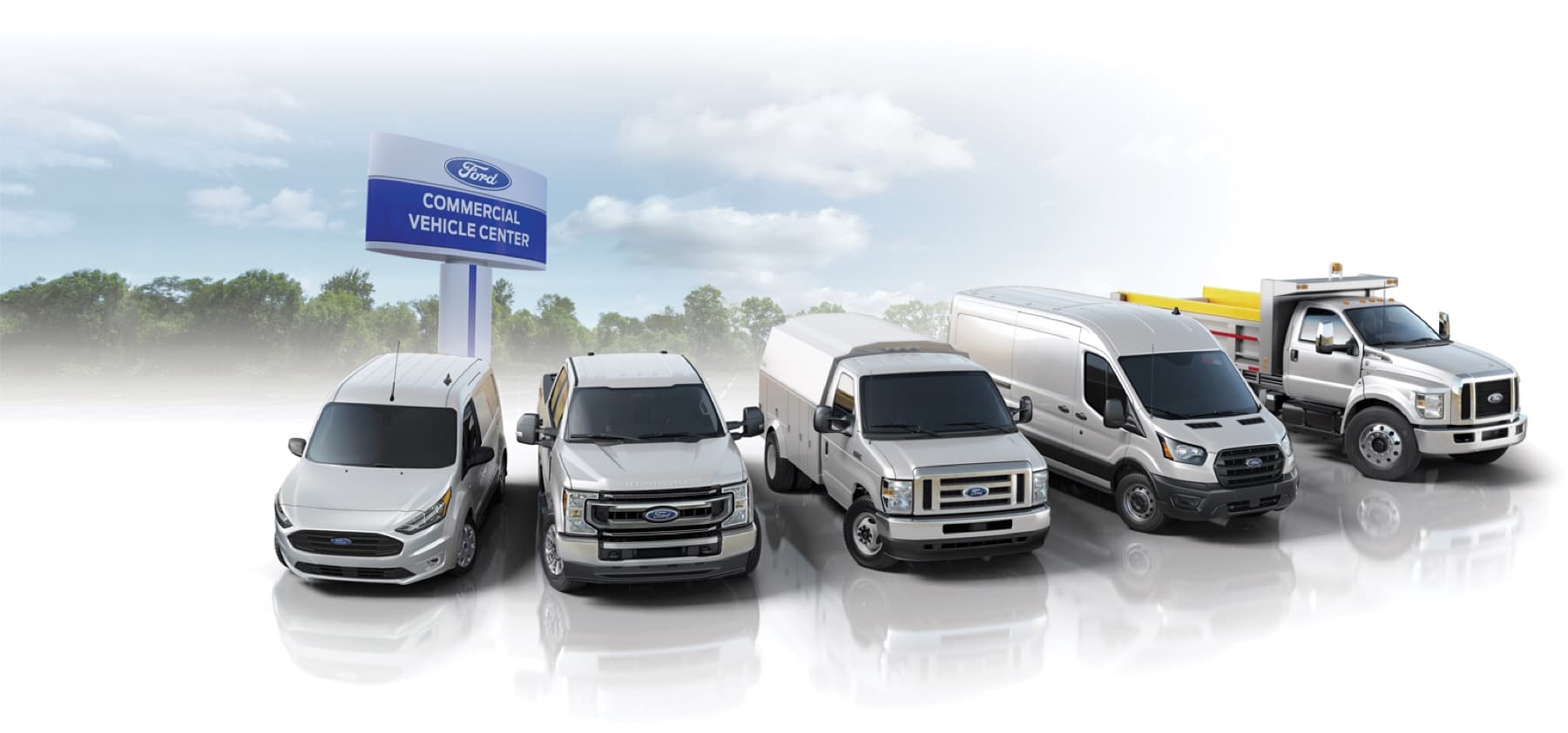 Built for the Road Forward
Your job has never been tougher. And we'll be here to help you keep working. Ford Commercial Vehicles are engineered to withstand the severity of everyday on-the-job duty.
We're Here For You
Santa Margarita Ford always puts customers first!
Don't take our word for it: Read our reviews and see what everyone is saying.
Great Day @ SMF...Staff is Mindful and Friendly!!!
Looking for fleet vehicle? see Rob, he put me into exact HTF HR EXT T350 Transit Cargo Van.that I was looking for. Thanks Rob!
Eric met with me late on Mothers Day and helped me get a quick look at the vehicle I was interested in. I returned a couple of days later and met with Arvin. He's new to the shop, but was very attentive and easy to speak with. He was able to address all of my questions and the things he didn't know, he reached out for help. The team a RSM Ford was a pleasure to work with. I purhcsed the car I wanted at the monthly price I needed. No mess, no fuss. No frills either, but in this day and age, I was ok with that.
I looked throughout the SoCal area to place an order for a Mustang Mach-E trying to find a dealer that wouldn't markup over MSRP or add on additional equipment that I didn't want on my custom order. I walked into the dealership and Bryan immediately greeted me. I stated that I was there to place an order if they would agree to no markup or added accessories. He stated that they do not add markup on ordered vehicles and they wouldn't add any additional equipment. We went over to a terminal and I placed my order with him. A little over 5 months later and my vehicle arrived to the dealership. Bryan called me what had to be minutes after it arrived (I had been tracking it the best I could since it left the factory) and we started getting all of the numbers together for financing. They honored the price protection plan that ford had implemented, as well as all the rebates I was expecting. Dave was our Financing manager and he wasn't pushy and didn't try to nickel and dime us on different packages and add-ons. This is only the second dealership I would consider A+ tier that I have dealt with. I suggest anyone looking for a new Ford to feel comfortable knowing Santa Margarita Ford isn't trying pull one over you and eek out every little profit like it seems every other dealership today is. If you're looking for a great salesman look no further than Bryan Richardson. He was friendly, caring, and seemed to always be available to answer my questions. He worked to make the buying process as easy as possible and it made the whole experience a positive one.
Happy with working with RSM Ford dealership especially Arvin from sales who was extremely courteous, patient and helpful in helping me purchase the Mustang Mach E which was difficult to get. Really appreciate his prompt communication and ease of working with the dealership itself. Great experience. Would highly recommend.
Had a great experience with Bryan both selling my car to them and getting into a new explorer. It always takes longer than you want, but they made it easier then some past experiences. Very happy with Bryan's service and would recommend him.
All the staff we worked with were great, from Jason (mgr) to Joey (sales). Although it took 10 months to get our Mach e, they were helpful in keeping us inform of its progress.
They got me a great truck with no hassle and were very knowledgeable about their product. Would recommend them to everyone.
Brandon was so helpful, professional and made me feel comfortable the entire process. I highly recommend this dealership!
Matt was awesome. Honest,kind and professional. Can't thank him enough.
I had such a great experience buying my first new car with Blake. he made a nerve wracking experience turn into a really exciting moment! would definitely recommend him and the dealership to do your business!
Ordered Mach-e through Santa Margarita Ford. Low add-on pressure and zero ADM. Great buying experience.
Clare took excellent care of us. She kept me posted as our Vehicle went through the repair process the whole way. We will be making Santa Margarita Ford our new go to Dealership for all of our repairs!! Thanks again Clare, see you soon!!
2022 was not a good year to buy a car....period! I shopped around for a month and most dealers didn't have the models and features I wanted and gave a 3-6 month waiting period to order. Some of them straight up didn't bother putting in effort helping and turned away business. I will never return to those dealers, nor recommend them to anyone because they didn't understand the fundamentals of community relationships. I saw a vehicle on Santa Margarita Ford's website that was ideal for what I was looking for and contacted sales. Arvin reached out to me and said it already sold earlier in that day, but took note of the features and specs I wanted. He advised that there were some vehicles in transit with the exact features I needed and offered to reach out when it came in. Sure enough, I got a call later that week and came down in the afternoon with the vehicle already pulled up. Arvin and team went the extra mile to get me in and out in a few hours and at a fair price, still time for dinner! Real MVP! Thanks again, I'm loving the new Bronco!
The service department is very thorough. They did an inspection on my 2019 Mustang Bullitt with a explanation of the car, their findings and how to change settings for the best Mustang performance. I found the service department and technician to be extremely helpful and accommodating. I recommend them and will take my car only to Santa Margarita Ford now.
very car caring and owner care, friendly staff and professional support about your vehicle needs, so if you love your ford you'll come on board,
Clar was great at checking me in and setting up a Lyft ride. I explained all I wanted done before our cross country trip and she made suggestions of items which should be checked.
Jonathan in Service did a great job today, made it easy, check in and check out was smooth, no BS. Whew!! And the car was washed, Bonus!
Great experience buying my latest vehicle. Received a fair value for my trade in and a fair price on my new vehicle.
Excellent experience buying my car with Robbie. He helped us get exactly what we needed and wanted with no issues and was very clear on the process and able to answer all of our questions. We are super happy we chose to get our car with him at Santa Margarita Ford and would definitely it to anyone looking to buy a car.
Great service advisors since 2011!
They fixed a tail light problem that persisted for years. I had been told by another dealer I needed an $800 taillight. Turns out it was a wiring issue caused by an aftermarket trailer light pigtail.
Very friendly, very patient and very helpful with my purchase!
Outstanding sales service. Arvin went out of his way to work with me.the sales team and management were outstanding. I found a vehicle posted online, when i called to see if the vehicle was still available they discovered it was a misprint in the post and should have been higher, they honored the price listed. I drove 2 hours to get to Santa Margarita Ford, because my local dealership rubbed me the wrong way the night before, SM Ford were very accommodating with my request over the phone. The quality of service and personable team at Santa Margarita Ford was worth the drive, and i am very happy with my purchase.
Took my 2014 Ford Escape in for a second opinion on a very expensive repair. I was so glad I did. They saved me nearly $1000! My local repair shop noted three items that needed repairs - they were correct about two issues but were wrong about my turbo line. What they had diagnosed as the problem wasn't the real issue. SM Ford took a closer look and found the real problem and in doing so, saved me a lot of money. My repairs were completed on time and I was kept informed of progress as parts had to be ordered.

Welcome to Santa Margarita Ford
New and Used Ford Dealership
Since opening, our strategy has always been to take care of our customers, employees, and community. We understand people don't like the car buying process. It can be too long and uncomfortable. It lacks transparency. We get it! This is why we work hard every day to be different. Our new & used Ford Dealership proudly serves residents in Rancho Santa Margarita, Mission Viejo, Ladera Ranch, Lake Forest, Cota De Caza, and Trabuco Canyon since 1997. We're convenient, competitive, and right here in your backyard.
New Ford Vehicles For Sale
Santa Margarita Ford offers a great selection of new and used Ford Trucks and SUVs. Shop our extensive selection of Ford Ecosport, Ford Escape, Ford Explorer, Ford Edge, Ford Bronco, Ford Mustang Mach-E, Ford Mustang, Ford Expedition, F150, and F250 models to all of Mission Viejo, Anaheim, Ladera Ranch, Lake Forest, Cota De Caza, and Trabuco Canyon. Browse our inventory to find your next vehicle today.
Pre-Owned Vehicles For Sale
Santa Margarita Ford also offers a great selection of Used and Certified pre-owned Ford Trucks and SUVs, including other well-known used brands. We are competitively priced, take a look at our used vehicle specials, and find the used car or truck to fit your needs.
Ford Specials
Santa Margarita Ford, we strive to get you the best deal. Whether you are buying or leasing a Ford, we are here to help make your car buying experience simple and fun! We'll help find you the deal that fits your budget!
Ford Parts and Service
At Santa Margarita Ford, we are always proud to serve our customers. We offer a full-scale Service Center and OEM parts department near Rancho Santa Margarita, Mission Viejo, Ladera Ranch, Lake Forest, Cota De Caza, and Trabuco Canyon. We provide same-day service on Oil change, brake service, fluid service, and much more for your Ford vehicle. Schedule your appointment today!
Contact Us